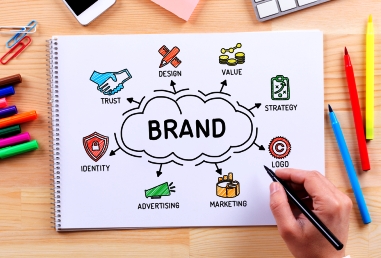 Branding is one element addressed in the marketing section of the business plan. It's also the image presented to angel investors when searching for business funding. Contrary to popular belief though, branding is not just about a trendy logo or elaborate advertising. It's the element that represents you as the business owner, the quality of your products, and the level of customer service. Brand is composed of your individuality and your company's value.
Branding is a complex concept which is one reason why it's often reduced down in people's minds as being mostly about advertising. The assumption is that if the target market is aware of your logo, then branding efforts have been successful. However, it goes much deeper than advertising, which is why your business plan must present more than an advertising plan to potential angel investors.
Business brands is about the quality and value that underpins the entire business. It's the projected image, but more importantly it's the tie-in for everything the company does or will do. business brand is a broad brush that covers marketing, pricing, the level of customer service and the business culture. Branding pervades the business plan and is not simply one element in the marketing plan.
Common question angel investors ask always concerns brand. What do you want your brand to project to the marketplace? Is it quality, innovation, creativity, problem solving or all of the above? Branding is important to startup companies as well as established companies. In fact, branding for startups can perform an important job for startups on limited budgets by making advertising efforts more effective. Clear and distinct branding differentiates the company in the minds of customers, thus giving the company more value for marketing dollars spent.
Before preparing a business plan to present to angel investors, make sure the brand is well defined. Branding is not just advertising. It's the element that ties your entire business together.
Who we are: Funded.com is a platform that is A+ BBB rated over 10+ years. Access our network of Investors, get instantly matched with a Lender, or get a business plan by visiting us Funded.com
You can review our featured partners to help your success with your business or project.