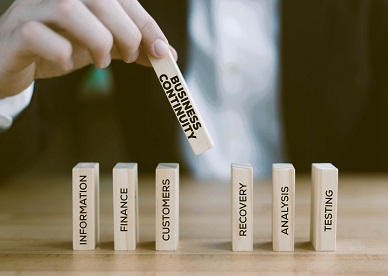 In today's rapidly evolving business landscape, where disruptions can emerge unexpectedly from various corners of the world, ensuring business continuity and resilience has become paramount. Organizations that have weathered storms, both metaphorical and literal, share one common trait: a steadfast commitment to preparedness and adaptability. In this article, we'll delve into the importance of business continuity and resilience, exploring strategies and best practices to fortify your business against unforeseen challenges.
The Crucial Need for Business Continuity and Resilience
Business continuity goes beyond a mere plan; it's an overarching philosophy that champions the ability to adapt and thrive in the face of adversity. Whether it's a global pandemic, a natural disaster, cyberattacks, or economic downturns, disruptions can spell disaster for unprepared businesses. Here are a few reasons why focusing on continuity and resilience is non-negotiable:
Mitigating Financial Loss: Disruptions can lead to revenue loss and increased costs. A well-prepared business can mitigate financial impact through strategies like remote work arrangements, diversified supply chains, and flexible cost structures.
Maintaining Customer Trust: Consistency is key to retaining customer trust. Businesses that continue to deliver products and services during disruptions demonstrate commitment and reliability, enhancing customer loyalty.
Staying Competitive: Organizations that can recover quickly from setbacks have a competitive edge. They can capitalize on opportunities while competitors are still reeling from the impact.
Compliance and Reputation: Certain industries have regulatory requirements for business continuity plans. Failing to meet these standards can result in legal consequences and damage to reputation.
Strategies for Ensuring Business Continuity and Resilience
Risk Assessment and Planning: Start by identifying potential risks that could disrupt your business operations. Develop a comprehensive business continuity plan that outlines procedures for various scenarios, from IT failures to natural disasters.
Diversified Supply Chains: Relying on a single supplier can be risky. Diversify your supply chain to ensure that disruptions in one area won't paralyze your entire operation.
Remote Work Capabilities: The COVID-19 pandemic highlighted the importance of remote work readiness. Invest in technology and policies that allow employees to work from home effectively.
Data Security and Cyber Resilience: Cyberattacks can cripple operations and compromise sensitive data. Implement robust cybersecurity measures and backup protocols to safeguard against digital threats.
Cross-Training and Succession Planning: Don't rely on a single point of expertise. Cross-train employees so that essential tasks can be covered even if a key team member is unavailable.
Regular Testing and Training: A plan is only as good as its execution. Regularly test your business continuity plan and provide training to employees so they know how to react in various scenarios.
Financial Flexibility: Maintain a healthy financial position that allows you to weather economic downturns. Avoid overextending yourself and consider building an emergency fund.
Communication Protocols: Establish clear communication channels to keep employees, customers, and stakeholders informed during disruptions. Transparency builds trust and reduces uncertainty.
Case in Point: Learning from Successful Resilience Stories
One compelling example of business resilience is the response of many restaurants during the COVID-19 pandemic. Faced with dining restrictions, they quickly pivoted to offer takeout, delivery, and even meal kits. Their ability to adapt and meet customers' changing needs allowed them to not only survive but thrive in challenging times.
In Conclusion
Business continuity and resilience aren't mere buzzwords; they're lifelines that can make the difference between sinking and soaring during challenging times. By prioritizing risk assessment, planning, diversification, and adaptability, businesses can position themselves to navigate disruptions with agility and confidence. Remember, the true strength of a business lies not just in its products or services, but in its ability to rise above adversity and continue delivering value to its customers and stakeholders.
Who we are: Funded.com is a platform that is A+ BBB accredited over 10+ years. Access our network of Angel Investors, Venture Capital or Lenders. Let us professionally write your Business Plan.