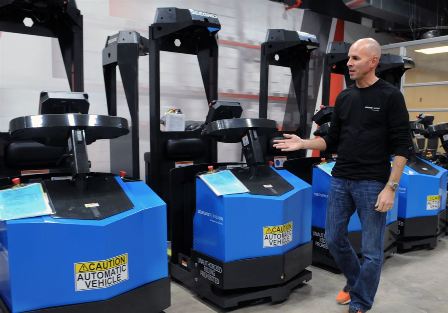 Seegrid Corporation, a Pittsburgh, PA-based the leader in self-driving industrial vehicles for material handling. As the demand for automation in supply chain operations continues to grow, so have investments in mobile robots' suppliers.
Seegrid was funded $52 million was led by G2VP with participation from technology and robotics investors. The company plans to use the added capital to increase the size of its workforce to deliver best-in-class automation solutions for its customers and also will accelerate new product development and new product introductions. Seegrid also is considering potential strategic acquisitions.
Founded in 2003, Seegrid has created two vision-guided vehicles (VGVs) capable of moving materials in warehouses and manufacturing sites entirely autonomously. The company has two vehicles on the market a pallet truck and a tow tractor—these vehicles outfitted with stereo cameras and machine learning smarts. The VGVs created to "see just like humans do," allowing them to navigate dynamic environments without additional infrastructure installation.
Seegrid CEO Jim Rock said they would expect to double revenues again this year and are seeing increased customer demand as the pandemic is driving many companies to greater use of automation across the material handling industry.
By this investment, they will continue to grow their market share, solidify their position as the market leader, and further disrupt the manufacturing, warehousing, and logistics industries. Moreover, most importantly, the continued support from G2VP and its new investors enables to accelerate new product innovations and address customer needs in this rapidly changing climate.
Several of the world's largest manufacturing and distribution brands believe Seegrid's vision guided vehicles (VGVs), fleet management software, and industry-leading services teams to drive them forward, not only assisting with their manufacturing, distribution, and e-commerce fulfillment needs but making facilities safer and more productive.
By: K. Tagura
Author statement:
Funded.com is the leading platform for accredited investors network worldwide. We monitor and provide updates on important funding events. Angel Investors and Venture Funding can be a key growth for a startup or existing business. Whether it is a first, second or third round financing having a strategic alliance with an Angel Investor or Venture Capital financing can propel a business to the next level and give the competitive edge.