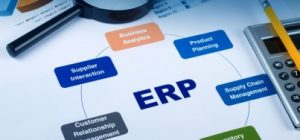 With the rapid growth in technologies, the ERP software market may cross $41.69 billion in profit by 2020. The statistics are enough to demonstrate the impact of this technology on businesses. This figure is undeniably impressive and reflects how important it is for businesses in the future. Incorporating ERP software is one way marketers can give their brand a competitive edge.
If your startup is in the initial phases and you are looking for a technology to help you manage business functions, ERP software is ideal, and if you don't how, this article is worth reading.
What is ERP?
ERP stands for Enterprise Resource Planning system. Many organizations use this software package to manage business activities, including project management, procurement, accounting, distribution operations, and manufacturing. It helps in day-to- day business functions while centralizing them within an integrated system.
The software is more useful when managing supply chain activities or keeping a track record of the moving parts of distribution and manufacturing. The use of ERP software is not confined to these business domains. It is utilized by a plethora of different domains that include nonprofit groups, construction, healthcare, and hospitality. Companies requiring inventory, staff, and customer management can rely on this advanced software.
In addition, ERP software stores data in a single database that allows different sections to work in collaboration by using the same information. ERP can organize and analyze data in the form of reports. In short, ERP software is great for bringing together the following functions into a single system:
Human resources
Financial management
Customer management
Business intelligence
Inventory
Supply chain functions
Here are some more reasons why your business needs ERP software.
Why Your Business Needs ERP Software
You might be wondering how ERP software is different from other software that performs similar functions. Although ERP software has the same goals of managing business functions, it has a number of unique features that make it extremely distinctive from other software.
Saves Money
You may find it a surprising fact, but ERP software is a good investment in terms of flexible pricing and saving money. For small companies, the initial price may seem heavy, but once they start using it, the software can help the business save a lot of money.
This means ERP software can significantly increase ROI. It is simply because the system unifies multiple systems that businesses often use in fragments. From accounts payable to product development, the staff can access the necessary tools by using a single centralized system. The software efficiently helps save time by keeping employees from hunting down information across different systems.
Improves Collaboration
This ERP feature generally varies as it depends upon the program business is using, but it does have a strong impact on collaboration in one way or other. As mentioned earlier, ERP works with a unique centralized database that provides the business a source to work in collaboration. Not only does it reduces the risk of errors caused by incorrect data but also minimizes costs.
Moreover, ERP software reduces during projects as team members can access to whatever data they need. The information doesn't require merging within sources or system because data is carefully collected, stored, and shared through one system. To put it simply, employees do not have to worry about accuracy, completion, and security of data files.
Helps in Better Analytics
Businesses need ERP software if they want to improve data analytics and statistical reporting.  ERP software, in this regard, is ideal as its store's data as input and makes for an unparalleled business intelligence tool. If vendors provide good functionality, ERP can be a great help in generating fast and accurate reports. The efficient software makes report compilation (that used to take days) a matter of minutes.
Besides this, the option of customizable dashboard enables executives to see the reports at the time they are uploaded onto the system. The reports include information related to expense statements and custom KPIs that has important insights for certain functions. The report access is also beneficial when a company has to make a quick and better decision.
Improves Productivity
There is no comparison of ERP software and traditional methods that make tedious tasks even more difficult. Employees used to invest hours for the tasks like monitoring inventory, generating reports, processing orders, and timesheet tracking. Not only were these tasks time consuming but also lower the morale of employees, increasing the risk of errors.
ERP software solves all these problems as it can conveniently automate even the most tedious task. With its integrated database, ERP eliminates all the redundant and time taking tasks, like data entry. It improves productivity by allowing the system to do advanced calculations quickly. The automatic features free up employees and provide an opportunity to focus on other important tasks to improve ROI. That means ERP software can increase business productivity, profitability, and efficiency.
Simplified Risk Management
ERP is must have software if your business is expanding internationally to keep track of imposed regulations on the business. Even if the business is local, there is a plethora of human resource, information security, and environmental regulations you need to consider.
The good news is that ERP considers these regulations so that businesses can maintain compliance. The software incorporates built-in auditing features to assist businesses with documenting tax provision and chemical use. This makes everything incredibly easy, from formulating reports to sending them to the pertinent governing authority. This feature makes ERP software a great tool to manage risk.
Final Thoughts
In a nutshell, ERP software is a panacea of all the hectic, tedious, and manual business functions. The advanced software is multifunctional and helps businesses improve functions, accuracy, reliability, and financial management. The integrated system can exceptionally manage a wide range of business activities from supply chain management and procurement to accounting, and operations.
In other words, businesses cannot deny the functional significance of this all-in-one software to enhance their overall productivity.
Access our network of Angel Investors, Venture Capital or get instantly matched with a Lender, or get a business plan by visiting us Funded.com