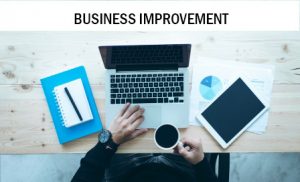 Entrepreneurs are not born; they learn things by experiencing ups and downs in a business. To make consistent improvement to improve your business status is critical to maintaining sustainability. Successful entrepreneurs perpetually monitor their business process in order to identify loopholes. Monitoring your business cash flow and identifying your strengths and weaknesses is a key process that helps you improve your business.
Apart from this, there are several things you can do to keep the risk minimum while enjoying a double-digit growth every year.
Here we have included an overview of some necessary means you can use to improve your business growth
Ways to Improve your Business
1. Assess Your Business Situation
As mentioned earlier, monitoring the progress of your business is a key to bring improvement. This is where you identify the areas that need change. However, before you make the changes, it is ideal to ensure that you are aware of the factors that are affecting the success of your business.
These factors may include emerging market trends, your current business strategies, weak market strategies or even lack of competent staff. Fortunately, there are a number of tools you can use to assess your business status. Following tools can help you:
SWOT Analysis:
It is an effective tool that is designed to identify the strengths and weaknesses of your business. Not only does it help you assess the strong areas of your business operations, but also threats and opportunities. You can work out all internal as well as external factors that keep your business from growing.
SWOT is one of the widely used analytical tools to help you in the decision-making process.
SWOT
Builds on strengths
Minimizes weaknesses
Seizes opportunities
Counteracts threats
Market research
It is another important tool to investigate the business market to help entrepreneurs identify emerging trends, new technologies, and customer demands
Trend Analysis
The tool uses your business data for the last five years to identify and assess consistent trends.
Benchmarking
It is a smart tool that is used to measure business performances with the same size of business being operated in the industry.
2. Business Goals
Whether it is business or your life, without goals it is completely directionless. Business goals keep you focused and energetic, which makes your business successful. You can use these objectives as a part of your ongoing business plan to make sure you keep moving forward.
However, there are certain criteria that need to be considered while setting these goals. Your goals have to be SMART- specific, measurable, achievable, relevant and timely. That means they have to be practical to be achieved within a set timeline. It would be better to prioritize your business goals or to write them down on paper.
You can plan short or long -term strategies to accomplish them. It will help you determine the time, finances and resources.
3. Develop a Strategic Plan
There is no doubt that businesses whether small or big, take time to progress. That is why it is important to create a smart strategic plan that has an outlook of at least 3 to 4 years. The plan should be made keeping the business goals ahead.
Make sure each year defines your business goals plus how your team will achieve those goals over the estimated time. Besides this, it is important to prepare a financial plan to meet the growing needs of your business.
That means the business strategy will not only define how your business will make profits, but also where and how much you will invest.
According to expert entrepreneurs, it is always beneficial to review your business strategic plans. It helps you match the set goals with the profit your business has produced.
4. Be Passionate About Meeting the Goals
This might seem a no-brainer or something trivial, but it can make a huge difference when it comes to accomplishing your business goals. When you are passionate about your work, your colleagues and employees can feel this energy as well.
In other words, showing enthusiasm and excitement cannot be underestimated as it plays a critical role to make your team more hardworking, and focused toward their work productivity. The passion and enthusiasm translate to a better outcome.
Unhappy workers, on the other hand, pass through negative energy and make work more challenging.
5. Implement Strategies
You cannot achieve business goals unless you implement the changes. Once you have made the strategic plan and estimated finances, it is the time to implement strategies. The implementation process includes several tasks and actions.
It is always a good idea to device an action plan, divides the workload, and tasks accordingly. Following are some of the important points to help you implement the changes for business improvement.
Time Frame: Determine how long a specific task will take to complete. Set tentative dates for the task.
Actions: Divide the tasks among those employees that you think are the most appropriate to accomplish them. State actions to be taken precisely.
Responsibilities: Assign responsibilities; make sure your teams get the work done in time
Resources: Compile a list of supplies, budget, and other finances
Outcomes: State your desired outcomes and how the results will be evaluated
6. Evaluate Success
You need to establish some measures to evaluate whether you have achieved your business goal or not. These assessment measures depend on the type of tasks you are working on. If your business goals are significant, the measurement process will be more complex, such as measuring profits by a set percentage.
Along with these measures, you can set percentages for each task. It will help you evaluate the success statistically. Plus, you need to consider how frequently you wish to measure your business achievements. It is very helpful when it is about setting new goals.
Final Thoughts
Your business does not only need your time, but also smart strategies and an effective action plan to improve revenues and profits. The above-mentioned tips are necessary means all entrepreneurs must adopt to sustain a prosperous business.
Who we are: Funded.com is a platform that is A+ BBB rated over 10+ years. Access our network of Investors, get instantly matched with a Lender, or get a business plan by visiting us Funded.com
You can review our featured partners to help your success with your business or project.