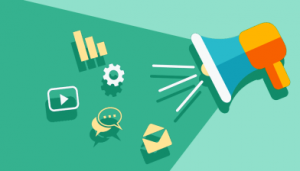 The success of a small business depends greatly on how effectively it markets itself, its products and its services. The real challenge with marketing is that it is one of the broadest concepts that any businessperson and entrepreneur have to deal with. Every business has its specific marketing needs, and yours does too. If you have a business, you must understand marketing in its depths and the many techniques that will help your business grow and expand. A lot of the business owners believe that having a website and doing some seasonal material marketing is enough for them, but they are wrong.
Marketing has completely changed in the modern times with "digital" being the main focus. A conventional approach towards marketing will not help you achieve the goals you have set for your business.
Understand the Concept of Marketing Mix
Before you start marketing your business, you have to understand the concept of the marketing mix. Marketing mix consists of price, product, promotion, and place. While many other factors have been added to the mix recently, these four Ps remain the strongest ones to date. If you can understand the concept of the marketing mix, you will ensure allocating strict budgets and still getting the best ROIs from your marketing campaigns. You must bear in mind that spending too much on marketing does not mean you will always be successful.
Your successful marketing strategy has to be a mix of the four Ps. Before you start promoting a product, you must know the product is complete and in an acceptable form. Once the product is complete and you want to promote it, you have to make sure you promote it in the right place. You don't want to be selling air conditioning units to the people of Siberia. Now, even if you created a great product and are promoting it in the right place, you won't be able to sell it well if you haven't priced it right.
You understand at this point that you have to pick every "P" of the marketing mix one by one and see if your strategy touches all of them. An important point to remember here is that the concept of the marketing mix is not limited to the "planning" phase of your marketing efforts. Even when you have executed your marketing plans, you have to keep measuring these four factors. If your efforts are not yielding any profits or positive ROIs, look at the four factors and try to find out which one has not been executed properly. Maybe you are promoting the right product at the right place but to the wrong people.
Base Your Marketing on Data
If you don't know already, the more relevant and popular term than marketing is data-driven marketing among marketers. It is clear now that marketing without data is less effective and less practical in the modern times. Today, you have dozens of different tools to collect data about your target audience. You use these tools because the data you collect gives you deep insight into your market, what your customers want and what puts them off. In the online world, the process of data collection starts from your website. On your website, the data you can collect include the demographics of your visitors, their recent interests, their path to reach your website, etc.
There are other means of collecting data about your customers. The thing is that you will collect data from many different channels and in many different formats. Being able to view this data in one place and taking effective action on it is what the real challenge is. Companies are now looking for solutions to manage their digital marketing campaigns in one place, regardless of the nature of those campaigns. Data-driven marketing also allows you to create more personalized campaigns that are more effective in persuading your customers to use your products/services.
Look at the Right Numbers
One huge mistake that many small business owners make is focusing on the wrong numbers. You might have a great website, a strong marketing strategy and a lot of data to target your efforts in the right direction, but you can't get any benefits until you look at the right numbers. Looking at the right numbers means that you measure the success of your marketing efforts by keeping up with the most important KPIs (key performance indicators). For you to measure the KPIs, you must set associate goals and targets with your marketing campaigns.
So, when creating a landing page for your product and get a lot of visitors on that page, it does not mean anything to you unless you are measuring some KPIs. In the case of a landing page, your most important KPIs will be the number of visitors, number of converted visitors and the sources from where the visitors are coming. Now, focusing on the wrong number would mean you are looking only at the number of visitors coming to your landing page every day. The number of visitors is only telling you that your marketing efforts have been successful enough to bring the visitors to the landing page. But how does that benefit you in any way if you don't earn anything from those customers?
That's where you have to measure the conversion rate. The conversion rate will tell you how much you are making from the visitors that are coming to your landing page. By focusing on conversion rates, you will put more money towards marketing campaigns that are bringing the most potential traffic, i.e., the traffic that's converting the most.
Now, no matter how benefiting it is to focus on your conversion rates, it is still only one side of the picture. The right numbers here are your acquisition costs. If you spend on every acquired customer is $100 but you are obtaining a value of only $20 from that customer, this type of marketing is not good for you. You always have to look at positive ROI, i.e., your returns on the investments must always be higher than the amount of money you have invested in a marketing campaign.
Conclusion
So, you know at this point that marketing is a profound concept and you have to understand it in its depths to it successfully. Large companies spend millions of dollars every year on just marketing. They must find some value in this activity to spend that much money towards it. On the other hand, small business owners can often ignore the importance of marketing. They are always focusing on short-term progress and return. If they don't see any significant results quickly, they stop spending on marketing and start looking for faults and shortcomings of their products/services.
It will pay off in the long-term to start using the right marketing tools right from today. Keep in mind that marketing tools are designed to handle different phases of marketing. While some tools help you market your products and services, others are more analytical. Another category is of tools that help simplify the use of both the types of tools. If you are thinking of starting a business or have set the foundation for a startup already, be sure to give marketing the attention that it deserves.  
Who we are: Funded.com is a platform that is A+ BBB rated over 10+ years. Access our network of Investors, get instantly matched with a Lender, or get a business plan by visiting us Funded.com