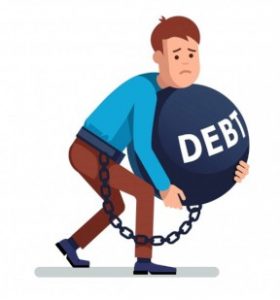 "Debt" and "business" are two words you don't want to see in the same sentence. Unfortunately, it is not always a smooth ride for every business owner. High hopes can often make business owners get carried away. That's why experts want you to be realistic with your expectations as a business owner. It does not matter how unique your product is or how differently you have planned to serve your target audience. You cannot expect too much unless you have tested the waters beforehand. Perhaps, you set your hopes too high at some point and dug your way into the debt trap.
Good news is that debt is not the death of your business – at least not always. Some proper planning, persevere attitude, and calculated strategies can help you dig your way out of debt too.
Free up the Money That belongs to You
The first thing you ever want to do is free up the money that belongs to you. Perhaps, you are in a business where credit transactions are common. The problem with this format is that customers can delay your payments more than the specified period quite often. They have received the product, and they have consumed it too. Not clearing your invoices does not really hurt them as much as it hurts you. Consequently, you will have to get in touch with these customers and remind them of the pending invoices.
You can ask these customers to pay you sooner. Set a deadline and ask every customer to pay by that time. It won't be easy but do not forget that you are fighting for the survival of your business. You can boost your cash flow significantly even if half of the customers agree to pay you on your set deadline.
Boost Your Revenue
This is an area where business owners have an advantage over people who do nine to five jobs. Salaried individuals don't have any control over their salaries. It is a fixed amount that they will receive at the end of the month. On the other hand, you as a business owner have your revenues under your control. You can decide what your business earns at the end of the month. You can change prices, launch promotions, and cut your costs significantly to increase your revenue and profit.
One of the ways to get your customers' attention is to launch promotions. However, you have to design your promotions carefully. You don't want to shrink your profit margins until you know your promotion will increase your customer count considerably. If you have a loyal and repeating customer base, take advantage of that. Increase the prices a little to generate more revenue.
Slash Your Costs
Cost-cutting can be a huge step for a business. You have a hundred different costs that you can cut down. First, talk to the vendors that supply you the materials for your products. Quit the marketing campaigns that are not generating any returns. Reduce your operational costs as well. If possible, ask your workers to work from home to save yourself some money on office space. In fact, you can cut down your computer, internet connection, utility, etc. costs if you can make your employees work from home. Reduce office hours if your calculation tells you that certain hours are not as productive as much as they cost you.
Pay Your Debts First
A common mistake that business owners often make is treating debts as a secondary concern. You might feel tempted to buy more inventory, fulfill some orders, and pay the overhead expenses first, and then worry about your debts. However, this strategy can go against you. You will never be able to pay your debts if you make other business expenses first. The thought of repaying the debt is stressful. You can't make great decisions when you are stressed. You will see a huge improvement in how you tackle your business related matters once you have paid off your debt.
Consider Consolidation
You can consolidate your loans to make things easier for you. What makes debts scary and stressful for business owners is that there can be many of them. Even if you pay one debt, you then have another to worry about. This format can be mentally devastating for the business. Moreover, you might be paying different interest rates on different debts. Consolidation helps you simplify your debt repayments.
First, it combines all the debts that you have to pay into one. As a result, you have to make just one payment every month that serves as the repayment of all your debts. Secondly, it helps you take advantage of a more affordable interest rate. The fact that you don't have a bunch of different credits knocking on your door every day can be quite relieving too.
Find a New Partner
You want to take this step only as a last resort. Of course, the sight of seeing your business shut down is more painful than anything else. That's why you can make a new partner in business by offering some equity rather than letting your business sink to the bottom. You can ask your new partner to finance your business for the chunk of equity you are offering him/her. A crucial consideration here is not to offer too much equity. You don't want to lose control of your business as a result of this deal. Offer only enough equity that keeps the new partner interested but does not make you lose your control over your company.
Concluding Thoughts
You must not forget that these are only the extreme measures to dig out of debt. The first cure for avoiding debt is care. Make sure you start with a solid business plan wherein you have sorted out your expenses and loans already. Sometimes, venture capitalists are not the best option to fund a business. In that case, you have crowdfunding options available. Using the latter option, you can fund your business amply without necessarily giving up equity too much equity, if any at all.
Author statement:
Who we are: Funded.com is a platform that is A+ BBB rated over 10+ years. Access our network of Investors, get instantly matched with a Lender, or get a business plan by visiting us Funded.com
You can review our featured partners to help your success with your business or project.