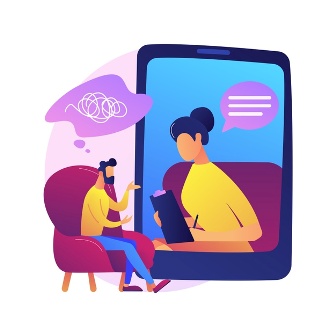 Wysa, the heading global AI-powered mental health platform in Boston, MA, designed by Touchkin eServices.
Wysa was funded $5.5 million led by Boston's W Health Ventures with participation from Google Assistant Investment Program, pi Ventures, and Kae Capital.
The company will use this capital to support its offering to employers who want to expand their mental health benefits and scale up Wysa's sales team and therapist network.
This company provides AI-driven mental health support, available both to individuals and through employer benefits programs. For example, a chat-bot can respond with words of affirmation or guide a user through one of 150 different therapeutic techniques.
Jo Aggarwal, the CEO of Wysa, said this platform's goal is not to diagnose mental health conditions. Instead, the platform helps deal with stress, depression, and anxiety with the support of an "emotionally intelligent" bot, which runs evidence-based cognitive-behavioral techniques (CBT), meditation, breathing, mindfulness exercises, and micro-actions that allow users to build mental resilience skills.
Many employers have some solutions of mindfulness support and Employee Assistance Programs (EAP). However, it is tough to tell if this supports employees and even tougher to tailor this to any definite concerns they may have, especially during the pandemic. Wysa offers to customize the support to workplace solution that caters to the full spectrum of mental health needs.
Although Wysa has been refining in the field, research institutions have played a role in Wysa's ongoing development and had several tests in the actual world. For example, to develop a module specifically targeted toward COVID-19 anxiety and to help people handle mental health effects from chronic pain, arthritis, and diabetes.
Dr. Pankaj Jethwani, Executive Vice President at W Health Ventures, fascinated with Wysa's uncompromising clinical safety and unique patient-centricity. It keeps a near-perfect rating from approximately 100,000 reviews resulting from over 100 million conversations. Also, Wysa is a precedent of how technology serves millions of people access everyday mental health support and self-care tools without barred by a clinical diagnosis. That's why they thrilled to deepen their relationship to support Wysa's next phase of growth.
The Wysa platform operated by 20 enterprise partners worldwide and facilitated over 100 million conversations with over 3 million users, and covers over 10 million lives in 65+ countries worldwide.
By: K. Tagura
Author statement:
Funded.com is the leading platform for accredited investors network worldwide. We monitor and provide updates on important funding events. Angel Investors and Venture Funding can be a key growth for a startup or existing business. Whether it is a first, second or third round financing having a strategic alliance with an Angel Investor or Venture Capital financing can propel a business to the next level and give the competitive edge.