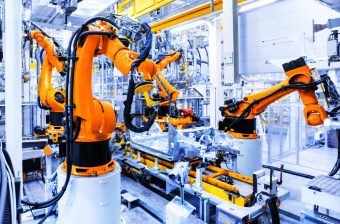 The Boston-based company Realtime Robotics is a developer and the leader of industrial robot technologies for manufacturing and logistics operations.
Realtime Robotics funded $31.4 million from new strategic investors, including HAHN Automation and SAIC Capital Management, Soundproof Ventures, and Heroic Ventures. In addition, with selected existing investors SPARX Asset Management, Omron Ventures, Scrum Ventures, Toyota AI Ventures, and Duke Angels Investors.
The company was founded to transform automation with flexible robot control capabilities, built on its innovative, real-time collision-free motion planning technology.
Realtime is one of some startups building control on top of industrial robotics. Specifically, the startup looks to help companies deploy systems with limited programming, offering adjustable controls that work for multiple systems at once.
This new fund will speed up its product rollouts and continue its innovative enhancements and solutions. Also, deepen its reach in the warehouse automation industry while serving global automotive manufacturers and their supply chain.
Peter Howard, the CEO of Realtime Robotics said, the new investment by some of the world's leading manufacturers and automation providers stands as a testament to their ability to improve the value proposition for robotic implementations.
It works closely with long-term partners and customers. Realtime will continue to perfect its collaborative system, which incorporates its good real-time planning technology with other certified system components. To enable industrial robots to adapt their motions and avoid unwanted contact with humans while continuously accomplishing their intended tasks.
Because of the determination and reasonable plans of Realtime. Philipp Unterhalt, CEO of the HAHN Group, was impressed with what Realtime can do to solve problems with a unique approach. Using integrated planning software and controls to speed programming, improving flexibility, and improving throughout, simply making industrial automation more affordable and effective.
Also, the SAIC Capital Management and Soundproof Ventures investors are proud and thrilled to partner with them and work closely with the team. Because Realtime Robotics technology is groundbreaking and will transform robotic automation across a range of industries. They help their customers remove the friction, cost, and complexity of automation and drive forward the future of manufacturing.
By: K. Tagura
Author statement:
Funded.com is the leading platform for accredited investors network worldwide. We monitor and provide updates on important funding events. Angel Investors and Venture Funding can be a key growth for a startup or existing business. Whether it is a first, second or third round financing having a strategic alliance with an Angel Investor or Venture Capital financing can propel a business to the next level and give the competitive edge.