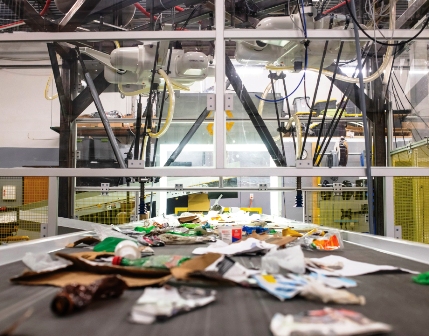 AMP Robotics, the pioneering recycling robotics technology developer, based in Denver, CO., was funded $55 million in a Series B financing.
The investment led by XN with the participation of new investors Valor Equity Partners and GV. The existing investor's Sequoia, Sidewalk Infrastructure Partners, Congruent Ventures, and Closed Loop Partners.
The company plans to use the funds to escalate its business operations to meet its technology's strong market demand. And advance innovative new AI product applications that combine into materials rehabilitation facilities to increase recycling rates for its customers. Expand its business reach as it works with consumer packaged goods (CPG) companies, like Keurig Dr. Pepper (NASDAQ: KDP).economy.
Matanya Horowitz, the founder of AMP Robotics, applies AI and robotics to expand recycling rates and economically secure recyclables reclaimed as raw materials for the global supply chain.
Horowitz said they were thankful for an outstanding group of new investors, a mission-driven team, and amazing customers. They are putting this next round of investment to work immediately to create a unique technology for the waste industry and consciously commit to decreasing society's impact on the environment.
Globally, more than $200 billion worth of recyclable materials goes unrecovered yearly. The economics and capability of recognizing and classifying paper, plastics, metals, and other recyclables from the waste stream create a significant challenge for material recovery.
The waste industry has also faced more stringent international quality standards for contamination-free imports of recycled materials for cost-effective alternatives to meet these requirements in current years. Pandemic occurred many businesses forced to suspend recycling operations because of concerns for worker safety. Simultaneously, the pandemic increased demand for high-quality recycled feedstock to overcome supply chain interruptions and shifts in raw material availability.
AMP Robotics' technology helps the waste industry meet these challenges by modernizing recycling improving material quality, ensuring worker safety, increasing productivity, lowering costs, diverting waste from landfills, and reducing greenhouse gas emission while increasing overall recycling rates recovery.
Gaurav Kapadia, the founder of XN, said, They are excited to partner with AMP as Matanya. The team continues to build an exceptional and category-defining business. AMP's technology radically improves the economics and efficiency of recycling. It creates long-term, transformational value for customers, the economy, and the environment.
By: K. Tagura
Author statement:
Funded.com is the leading platform for accredited investors network worldwide. We monitor and provide updates on important funding events. Angel Investors and Venture Funding can be a key growth for a startup or existing business. Whether it is a first, second or third round financing having a strategic alliance with an Angel Investor or Venture Capital financing can propel a business to the next level and give the competitive edge.