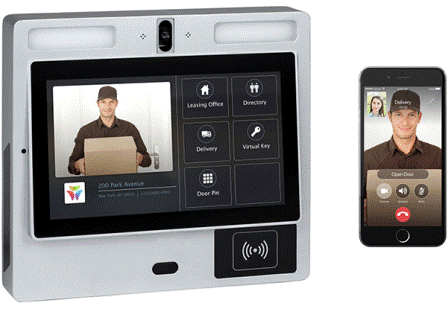 New York-based company ButterflyMX a smart intercom creator, a secure and convenient smartphone-based technology, was funded $35 million in a growth equity round.
This newest round was led by Volition Capital, with support from Egis Capital, RiverPark Ventures, and Stifel Venture Bank. As part of the financing, Roger Hurwitz and Robert Chefitz of Volition Capital and Egis Capital will join ButterflyMX's board of directors.
A company spokesperson said that the fresh capital would expand into new markets, hire on 80 new employees by 2021, and introduce products that extend ButterflyMX's intercom experience from the front door to the rest of the building.
The company started in 2014. Their mission is to let people open and manage doors from a smartphone. ButterflyMX does design to eliminate the unnecessary building wiring and in-unit hardware that comes with common video intercoms, significantly reducing installation costs for property owners and developers.
ButterflyMX enables easy property access control from anywhere at any time. With ButterflyMX, tenants enjoy seeing, speaking, grant building access to visitors via their smartphone, and building staff benefit from simplified property operations and management — allowing their teams to focus on higher-value tasks rather than managing and granting property access.
Cyrus Claffeey, the founder of ButterflyMX, said, Their smartphone-based platform does build to provide a better living and working experience by solving the access challenges associated with modern properties. Their products also simplify building staff by enabling them to focus their time effectively and efficiently, which has never been more important.
He is also thankful to their investors that allowed them to continue to develop products and services that help the real estate world move away from antiquated keys, fobs, and keycards for managing property access.
ButterflyMX is installed in more than 4,500 properties across the U.S. and internationally. It has adopted in buildings developed, owned, and operated by the most trusted names in real estate, including Greystar, AvalonBay Communities, Bozzuto, CA Ventures, Lennar, Lincoln Property Company, and Equity Residential.
By: K. Tagura
Author statement:
Funded.com is the leading platform for accredited investors network worldwide. We monitor and provide updates on important funding events. Angel Investors and Venture Funding can be a key growth for a startup or existing business. Whether it is a first, second or third round financing having a strategic alliance with an Angel Investor or Venture Capital financing can propel a business to the next level and give the competitive edge.