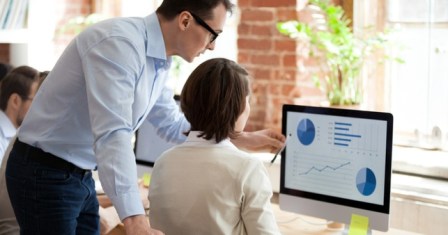 After you've taken in the best and the brightest interviewees into your workforce, do you sit back and relax? No! This is where many managers and business owners make a mistake. After the initial hire, they automatically think that their job is finished forgetting that they need to continually be in touch with their employee to help them grow.
Employee success and engagement is the company's success. Are your employees emotionally invested in committing their talent, time, and energy towards adding value and progressing the initiatives of the company?
Once your employees are neglected, inevitably, you won't get the retention, revenue, and overall success level that the company is targeting. According to Gallup's State of the Global Workplace report, employee disengagement results in over $550 billion in lost productivity in the United States. So, it is evident that while this is a problem today's managers and leaders face in the workforce, it is also an excellent opportunity for them to up their game.
Let's discuss strategies to take towards boosting the success of your employees.
Share the Vision with the Workforce
An employee will hardly be satisfied in a job if they lack a sense of job significance. They would feel excited and energized about the work they have to do when you regularly share the direction and vision of the company with them.
The importance of communicating the company's goals and plan for your staff cannot be overemphasized. And this is not a matter of taking it to them once or occasionally; you have to say it to them regularly.
Make your employees feel that they are working on something fundamental. The day to day responsibilities at work can feel tiring, but when your staff knows the big vision and purpose of their team, department, and overall company, they would be able to push through and succeed at a higher level.
Communicate Well
This is related to the first key strategy we discussed above. Nothing discourages a staff more than when they feel they are being lied to and kept out of crucial business discussions.
Over communication is one of the traits of successful leadership. So, managers and owners need to communicate always and consistently about the changes in the work structure and company. This will go a long way in helping staff members feel secure in their positions and more engaged in their jobs and commitment to the company.
Encourage Your Employees to Own the Job
To enable employees to be more successful at their jobs, you have to develop a decentralized command ecosystem. Your employees shouldn't be just 9-5 workers who clock in and count the seconds till they can clock out. No! It shouldn't be so.
From your VPs down to your customer service staff, enable all your staff members to think that their work is of central importance to the company. By involving them in setting the goals for the company, you'd be helping them understand and care for the company as much as you do. You can do this by empowering and encouraging your staff to be intrapreneurs and own their jobs.
Intrapreneurs have access to the capabilities and resources of an established company, and this helps them to come up with innovative projects and ideas that will enhance the future of the company. And what's more, they are given autonomy to work on this project.
Give your workers latitude with their choices, but of course, with proper guidance. Put your faith in the ability of your employees to do a great job, and you'll be rewarded with increased job satisfaction, ownership, engagement, and success rate.
Know the Career Ambitions of Your Employees
Several companies are usually more concerned about what they can get from an employee, than what the employee can get from them. And this ought not to be so.
The relationship between a company and its staff members should be a win-win situation for both parties. While you, the company gets the benefit of their work, their jobs should also be getting them closer to their professional goals.
Now, the question is: how do you help them with this if you are not aware of their goals in the first place? Beyond the questions and answers during the interview, when you take in a new hire, someone in the company should be responsible for learning their development track and professional goals.
This will ensure that your employees will keep moving forward (most likely within the organization, and they'll continuously reach out for better results in their jobs.
Defined Roles and Responsibilities
Often, employees struggle with job success because they don't know what expectations and standards they are being evaluated by. If a person is not aware of his/her specific role in the overall goals of a team, results will suffer. Thus, align roles and responsibilities for each team member according to their skills and expertise, and make them aware of it.
Feedback
How do you give feedback to your employees? Do you only give feedback when an employee needs improvement or has made a mistake? To help boost your employees' success, it is equally essential that you provide positive feedback.
Bill Nelson, in his book "1001 Ways to Recognize Employees", showed that the thought of making a difference and being recognized for excellent work are the two main drivers of work performance. Unfortunately, a larger percentage of the employees he spoke with during his research haven't even heard "Thank You" in over six months. You want your staff to succeed, right? Then start showing appreciation and giving positive feedback.
Giving feedback to your employees is crucial. But even more, do they have an avenue to also provide feedback to their managers about their team and business without the fear of being judged or punished. Train yourself and your managers to listen carefully to your employees when they suggest improvements and new ways of doing things.
Bottomline
Boosting employee success is no rocket science. Even as you engage in the strategies we have discussed above, there is no harm done if you simply ask them to tell you how the company needs to improve and what needs to be effected for their work to be more fruitful and productive. Good Luck!
Who we are: Funded.com is a platform that is A+ BBB rated over 10+ years. Access our network of Investors, get instantly matched with a Lender, or get a business plan by visiting us Funded.com
You can review our featured partners to help your success with your business or project.