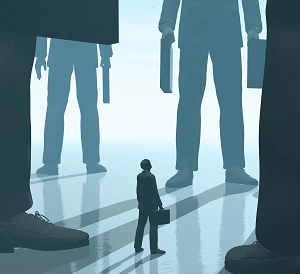 You probably hear terms like small business and 'large business' quite commonly whether you are looking for software solutions, investment opportunities or something else. Sometimes, it can be difficult for business owners to figure out if what they own is a small business or a large one. The confusion is valid because you don't often find clear definitions to help you distinguish one from the other. However, it is essential to know the difference so you can pick the right services. This is because most service providers design their service packages differently for small and large companies. There are also other reasons why you would want to know their differences.
Why Know the Difference
You need to know the size of your company because of the laws that apply to these entities. Large businesses have to follow a different set of rules and regulations than small businesses. In addition to that, several federal programs are available that are different for small businesses and large businesses. As an example, you won't qualify for certain programs unless you are officially a small business and are entitled to the program. You can get into trouble if you think your business is small but the government deems it otherwise.
Also, keep in mind that when you operate as a small business, but spend like a big one, you can put your venture in trouble. So, what sets the two apart from each other?
The Differences between Large and Small Businesses
The Size
How do you determine the size? How do you know that the size of your business is small or large? The federal government has its ways of determining the size of a business. They will look at either the number of employees you have or your yearly receipts. However, the standards are not uniform across industries.
What this means is that a small business in one industry might not be small in some other industry. In most cases, your average yearly receipts have to be over $7 million for the federal government to treat your business as a large one. The number of your employees should be more than 500 for your business to be considered large.
However, this standard of 500 employees is more applicable to the manufacturing and mining industry. However, keep in mind the varying standards across industries. For instance, in some service industries, your yearly receipts could amount to over $21 million, but the federal government will still not consider your entity as a small business. The agriculture industry's standards can be quite the opposite of that with the government treating businesses with average yearly receipts of more than $500,000 as large businesses.
The same rule applies to the number of employees as well. For example, if you are a part of the wholesale industry, and you have more than 100 employees, your business could be termed as a large business. On the other hand, if you are in the manufacturing industry, the government will write you down in its books as a small business even if you have 1,500 employees.
Internal Structure and Hierarchy
A large business will often have a more clearly defined structure and hierarchy. Almost every case in question will go through various departments before the company comes to a final decision. On the other hand, the structure is not fully defined or is not as detailed. The employees and the owner are not too far from each other. A complaint from a customer can reach from an agent to the owner pretty conveniently. On the other hand, there are several roles beneath the manager that can handle numerous tasks and take decisions.
Due to the hierarchy that normally exists in large businesses, they often delay their decisions. Contrary to that, small businesses take their decisions very quickly. The hierarchical structure also gives rise to a culture of workers performing their respective tasks only. In a small business, the same person could have multiple roles.
Financing Options
There is a stark difference between the financing options that small business and large business owners choose. Large business owners have good PR, a name in the market and some level of dominance in the industry. Such a position allows them to go for options like investment banks. They can naturally attract well-known investors of the country as well when they are in need of finance.
On the other hand, small business owners try to avoid bank loans because of the hardships they face when it comes to paying back debt. In most cases, small business owners rely more on their savings or funding from someone in their family.
Salaries and Perks
Since large businesses are financially more independent, they can offer their employees attractive packages and benefits. Health insurance, dental insurance, yearly bonuses, provident funds, etc. are just some incentives that employees at large companies enjoy.
On the other hand, people working at a small company do not get such benefits in most cases. They can have attractive salaries, but a small business owner cannot afford medical insurance and comprehensive benefits for employees. It is one of the reasons why most of the people working at a small company often look for opportunities at large companies.
Nowhere does it say that small businesses have less potential for growth and expansion than large businesses. For this reason, small business owners should be confident in their efforts to grow. While large businesses have access to big bank loans and broad markets, even a small mistake in their predictions and estimates can result in huge losses.
On the other hand, small business owners face smaller risks when you consider the volume of their loss. Be sure to identify your business size and take advantage of all the benefits that the federal government has made available for small businesses.
Who we are: Funded.com is a platform that is A+ BBB rated over 10+ years. Access our network of Investors, get instantly matched with a Lender, or get a business plan by visiting us Funded.com
You can review our featured partners to help your success with your business or project.