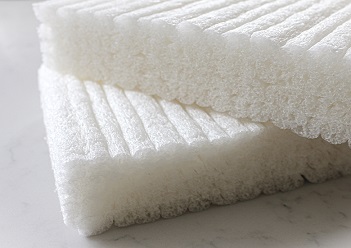 Cruz Foam is a Santa Cruz, CA-based developer of foam plastic materials designed to power up the packaging industry to be a catalyst for a cleaner environment. The company's materials are produced by transforming chitin. A biopolymer found in shrimp shells, into structural foams to replace petroleum-based foams with an environmentally friendly process, enabling companies to tackle the problem of the plastic pollution epidemic by creating a biodegradable packaging replacement for single-use plastics.
Cruz Foam was funded $18 million led by Helena, with support from One Small Planet, Regeneration.VC, At One Ventures, SoundWaves, and strategic angel investors. The company plans to use the new budget to accelerate and scale the commercialization of its circular materials to respond to market demand.
The company was established in 2017 by John Felts, CEO, and Marco Rolandi, CSO, mission to replace single-use, petroleum-based plastics. It is forming substitutes for EPS and EPE and driving into new spaces such as cold chains and plain packaging for consumer-packaged goods. Cruz Foam is a proactive solution that answers that call and accelerates the pace of change by preventing new plastic from entering the waste stream by design. Derived from all naturally occurring food waste materials, Cruz Foam was developed to provide protection and performance without adverse environmental impacts.
The necessity to prototype and test these possibilities is one reason the company is growing such a considerably sized round. In addition, they just purchased a new extruder (foam like this is essentially printed using specialized equipment) and have been testing with all kinds of new form factors caused by partners and potential partners across many industries.
Felts said that Helena is highly aligned with their mission and values. They are excited to collaborate with their team and other partners to deliver proactive solutions to address the preventable environmental crisis of plastic pollution. Further, their conversion to a Benefit Corporation underscores their core values and commitment to this mission.
By: K. Tagura
Author statement:
Who we are: Funded.com is a platform that is A+ BBB rated over 10+ years. Access our network of Investors, get instantly matched with a Lender, or get a business plan by visiting us Funded.com
You can review our featured partners to help your success with your business or project.