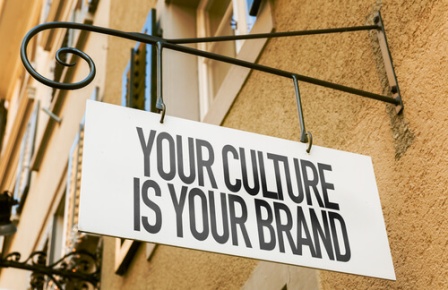 Right from the very beginning of your business startup's formation, you have already begun to create its corporate culture. Whether you have taken an active role in shaping it or allowed it to organically develop, your corporate culture becomes a part of your business based on your behaviors, vision, and values of your brand. Creating a positive organizational culture can allow your business startup to thrive both internally with your employees and externally as they interface with your customer base.
Being proactive at the beginning of your business startups foundation can work to develop a culture that employees take pride in being a part of and also help to express your vision into the long term. Waiting until you are a more established business with a team of employees to worry about your corporate culture can have a negative impact on your business as you forget about the very ideals that make your business startup who it is. With a little bit of management and foresight now, you can craft a corporate culture that follows your business startup's vision, values, mission, and expected behaviors.
Find Your Purpose
Start by thinking about what the vision for your business really is. You need to think about where you where you are headed and where you want to go. Having some direction early on with your business startup will give you, as well as your employees, something to work towards and aim for. The decisions and choices you make should directly support your vision and allow you to drive your company well into the future.
Along with your vision, you need to create the values that your business startup stands for. This is an important step as this will carve out the ideals of your brand and expectations of your employees. Your employees are just as much a reflection of your business as you are and having values that they can live up to can bring a strong reputation and recognition to your company.
Spread the Message
Once you have developed a vision strategy for your business startup, you need to be vocal about it. You can't expect your team to catch on if they are unaware of its evolution. Spread the message and allow yourself to be transparent about its meaning to you. Allowing yourself to be open and communicative about how your vision and values align with the success of your business startup can create the buzz your company needs to take it to the next level.
Hire According to Your Values
As you add to your team, you need to find the right fit when it comes to your company culture. You want to hire employees that display your brand values as it will be an easier transition into your corporate culture to respect and stand behind what your business stands for.
As you work to select employees to work at your business startup find out what your values mean to them. Look for ways that they already integrate these values into their daily life. A prospective employee that possess experience, as well as your core values, can be a valuable addition to your business startup as they can bring that positivity your corporate culture needs. You can count on them to spread your vision message to others as well as be contagious to other employees that may have not fully onboard with your company purpose.
Reward and Appreciate
It's always nice to offer your employees perks, but as a businessstartup, the funding may not be there to give a lot. Recognition of your team goes a long way especially for those that display your company values in the work that they do. Develop a reward system to appreciate those that are incorporating the vision of your business startup with customers or in their work responsibilities and choices they make on a day-to-day basis. This small act can boost your corporate culture and make your business startup a company that employee value and cherish.
Think About The Past
With a focus on the future it can be easy to forget about your past, but how your started and where you came from is the very foundation that shaped your business today. Think about your history and the hard work that took to get where your business startup is today. Allow your employees to also understand the story behind your company and what it took to get it to its beginning stages.
Your past is a significant part of the strength of your business and most likely is what you drew your values from. Your employees need to understand the motivation and drive that propelled your business startup forward. Be upfront about your history and embrace it with a furry as it is the sole reason you are in the position you are today. When your employees see your roots, this will impact how they feel about the company and the vision that you have created to take it into the future.
Focus Daily On Your Culture
It is not enough to create your vision and values and be done with your corporate culture. It needs constant cultivation to prevent it from going to the wayside and becoming negative in a blink of an eye. You have an amazing opportunity as a business startup to start your corporate culture from the ground up as it is much easier to manage then change.
Make it a part of your routine to enforce the vision and lead by your company values. With you focus on maintaining a corporate culture that employees enjoy being a part of, you will reap the benefits from their improved productivity and performance.
When you focus on your corporate culture from the beginning stages of your business startup, you can easily create an environment that is positive for all that work there. You will see behaviors that are in line with your core values and strength in your corporate vision. The work starts now but will be well worth your efforts.
Who we are: Funded.com is a platform that is A+ BBB rated over 10+ years. Access our network of Investors, get instantly matched with a Lender, or get a business plan by visiting us Funded.com
You can review our featured partners to help your success with your business or project.