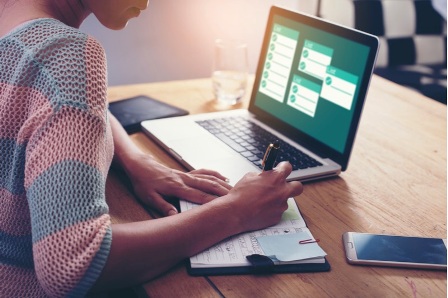 Commercialized use of technology is rapidly changing conventional operations across industries. Complete sectors, such as schools and offices, are taking a digital turn. Hence, the concept of remote workers is on the rise.
Working remotely allows professionals to work outside the traditional office space. This idea revolves around the notion that individuals do not need a designated office space to perform their tasks. Instead, they have the flexibility to work from anywhere in the world as long as they effectively meet their deadlines.
There are different ways people prefer to work remotely. For instance, some people work from home most of the time but occasionally report to their offices for in-person meetings or follow-ups. Meanwhile, others choose to either work in co-working spaces or the complete opposite: hit the road to be their most productive self.
Remote employment bears mutual benefits for employers and employee. Employees relish their flexible lifestyle, which allows them to maintain a work-life balance. This is a contributing factor in maintaining good health, mentally and physically, as they bear comparatively less stress. A recent study found that remote employees, in comparison to regular employees, are 69% more punctual with their work.
According to a survey conducted by SurePayroll, 86% of participants stated they happen to be their most productive self when they work alone in a relaxed environment. Furthermore, 66% of managers stated they receive better quality of work from employees who work from home.
Indeed, increased productivity from remote employee benefits employers and employees. Employees feel more passionate about their work when they derive a certain level of inspiration from their surroundings. Meanwhile, from a diverse group of people, employers yield greater profits with better quality of work.
Here are some ways an organization can hire competent remote employees:
Evaluate Organization's Processes and Goals
Assessing processes and goals of the organization will help determine its current potential, and the targets they want to achieve. This will give a clear picture of the type of remote employees they are looking for and where they can find them.
Even though many employers use Craigslist to post their jobs, leading organizations employ a variety of job portals and social networks to reach the ideal candidates. The most commonly used job boards are Flexjobs, We work remotely, Working Nomads, and RemoteOK. On the other hand, Work From, Nomad List, Digital Nomad Jobs, and Remote & Travel Jobs, are popular social networks for filling remote vacancies.
The recruitment process of traditional employee consists of five phases; i) recruitment planning, ii) strategy development, iii) searching, iv) screening and v) short-listing. Organizations tend to modify these phases as per their requirements.
Moreover, telephonic conversations and virtual interviews were the only sources used by recruiters to assess their pool of candidates. Today, organizations tend to use a variety of tools to assist in the hiring process.
For instance, recruiters commonly use Spark Hire, job and HireVue for conducting effective interviews. These tools enable recruiters to schedule interviews in different time-zones as employers can send their questions and candidates answer them in their own time. This way, recruiters can make viable decisions by comparing candidates thoroughly.
Most often, employers tend to make some common mistakes that render the recruitment process ineffective. These mistakes include no face-to-face contact, asking unfitted interview questions with no considerations for cross-borders, and speeding up the process of skipping skills assessments.
List All the Required Characteristics
Organizations should know the exact qualities they are looking for in remote employee. Attention to detail, self-starters, and professionalism are some of the most sought-after traits by employers in remote candidates.
To cover for the physical aspect of evaluation, employers tend to use a variety of tools to identify candidates from a cultural aspect. Tools, such as ThriveMap, Saberr, and Human, are a great way to determine if the candidate will be a good fit for the organization's culture.
These data-driven and artificially intelligent tools not only assist in estimating candidates' behavioral approach but remove any kind of biases that can influence decision making due to cultural differences.
Moreover, to verify the information a candidate provides, organizations should ask for referrals. Eventually, referrals are the most effective way to verify a candidate's profile from someone who has had direct interaction.
Make Unambiguous Contracts
Employers should make a clear offer to candidates who have all the necessary information from timing, salary package, legal rights of both the parties and so on. This way, there is no room for any discrepancies, and employers and employees can proceed with their dealings in a systematic manner.
Moreover, unambiguous contracts are a great way to ensure that either party's rights are not violated in the process and they can yield mutual benefits out of their transactions.
Manage and Retain Hires
Hiring remote employee is a long and tedious process that consumes organizations' precious time and resources. Therefore, wise employers tend to work on their plan to retain remote employees during the hiring process.
Since employers have to compete with physical limitations to keep remote employees satisfied, they adopt a variety of different monetary and non monetary approaches to compensate. For instance, providing an attractive salary regardless of the exchange rate is one way to retain their employees.
Other meaningful benefits include memberships to co-working spaces, insurance, and professional development. Most often, employers ask their remote employees for the kind of perks they will find most useful and reward them accordingly.
The concept of remote employment brings numerous monetary and non monetary benefits to both the organization and individuals. However, both remote employees and employers need to understand that their interaction requires a similar level of professionalism as is prevalent in conventional workplaces. With the right set of practices, remote employment proves mutually beneficial.
Access our network of Investors, get instantly matched with a Lender, or get a business plan by visiting us Funded.com