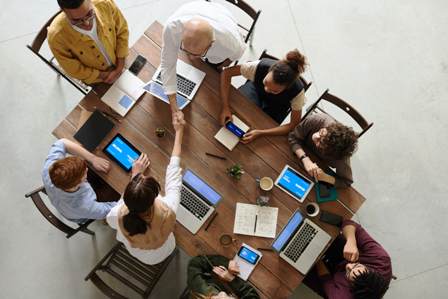 In this rapidly changing world, everything is shifting towards digitization, and businesses are also transforming their operations through technology to provide more reliable, timely, and convenient solutions to their customers. Digital transformation of small businesses will help provide better customer services, product development, and innovation in different aspects of the company.
Small businesses in their early phase can leverage this opportunity by implementing digital transformation as this will not require much effort compared to any established business. Transformation into the digital industry is not just about implementing the IT systems and installing applications; instead, it's a cultural shift that completely changes things.
A recent example is the catastrophic disaster "COVID-19" that has changed all the ways of doing things and created the urgency to develop businesses that would operate digitally. Companies that will not adopt cutting-edge technology and transformation will risk losing their market share and will be left behind.
Before coming to the actual ways of transformation, let me first highlight the numerous benefits that small businesses can enjoy after digitization.
The transformation will help the organization in better decision-making by making available accurate and reliable data of every segment with the help of analytic tools. These tools also assist in collecting customers' data that can help marketers make well-informed decisions. These valuable tools are also beneficial for both managerial and strategic level positions.
Large Organizations always put tremendous efforts into fulfilling customers' expectations. Therefore, adopting or integrating technology into your business process will add immense value to the product that will fulfill customers' needs and help small businesses to grab the market share before their competitors.
Companies that undergo the process of digitization improve profitability and reduce costs by cutting off their irrelevant expenditures. According to SAP, 80% of the businesses implementing digital transformation report increased profits. These profits can also be used for the future expansion of trade and more advancements in technology to have an edge on competitors.
Valuable tools and devices have reduced the hassle of maintaining employees' attendance, salaries details, and stock management and increased the coordination between various units. Providing employees with the right tools can streamline workflow and improve productivity. Automating tasks using AI tools will integrate data throughout the business and promote a digital culture that increases collaboration and encourages transparency in the workplace.
Interestingly, most small business owners are making efforts to make digital transformation a vital component of their organizations. They need an excellent strategy to digitize their most critical business operations and start making huge profits.
Whether you are running a small business setup or just getting started and want to transform your business digitally, a well-established strategy and a well-designed plan can help you get the most out of your efforts and investment.
Here are the six steps to successfully implement digital transformation for your small business
Involve every level of the organization in the change process
To make digitization successful, it is vital to have a strong vision and the right culture in the organization that embraces digital initiatives and encourages employees in this transformation process.
It is also essential to consider your staff concerns since many employees feel threatened by the implementation of technology and automation. Many business owners have faced the challenging task of tackling employees resisting digital transformation change.
To get out of this resistance from employees towards change, demonstrate the benefits of the technology and provide necessary training to your team. Empower them to use technology to achieve their life goals.
Empower employees with the Data-Driven Decisions
Data recreates a vital role in the decision-making process. Hence, it must be accurate. Educate your team regarding how to extract data using different analytics tools and make decisions out of it.
Accurate insights regarding customers will help you understand exactly what the customer wants. Then, your product development team can design the relevant products and services to fulfill the customer's expectations.
Ensure smooth integration of Business Systems
All business systems should communicate smoothly to streamline operations, automate workflows, and increase efficiency.
The actual point comes when you Integrate all business applications (e.g., Finance, Procurement, customer services, and operations). Then, it allows you to enhance collaborations between various departments and make a customer-centric organization.
Cloud computing makes it very smooth for small businesses to connect various applications simultaneously. It allows you to streamline workflow and manage different business functions simultaneously.
Approach and collaborate with IT Consultants
Mainly at the initial stage, businesses don't have a large budget to hire a large IT team. Instead, you can outsource most IT tasks to maximize your resources. The first target would be to focus on areas that are the backbone of business and gradually increase investing more when your business starts to grow.
Try to work with consultants that provide in-budget solutions compatible with your company's existing infrastructure. They should also help you identify areas that generate a high Return on Investment.
Customer Care must be the top priority
We always heard that the customer is always right. Take their views about your product and service because there is always room for improvement. Customer feedback is an essential element that encourages you to improve your product and add more features that help you to stand out.
Make a Website for your customers' convenience, where they can view different products offered by you, make purchases and give feedback that ultimately persuades other customers to make a purchase.
The biggest challenge for business owners is to make sure the data management and security protocols remain in sync. Data protection requires IT solutions and strategic business initiatives due to the strict regulatory requirements and may face harmful consequences in a data breach.
In the end, evaluate and highlight areas where technology can help you make an impact. As a business leader, keep in mind your primary goal and create a culture for continuous learning, collaboration, advancement towards digitization, and innovation in every area that requires transformation. All of the above factors can make your goal of digital transformation achievable.
Funded.com is the leading platform for accredited investors network worldwide. We monitor and provide updates on important funding events. Angel Investors and Venture Funding can be a key growth for a startup or existing business. Whether it is a first, second or third round financing having a strategic alliance with an Angel Investor or Venture Capital financing can propel a business to the next level and give the competitive edge.