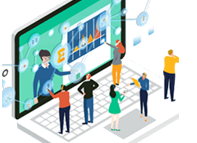 Zuddl is a startup company based in Boston, MA, and Bengaluru, India. This company is also the developer of a cloud-based virtual conference management software designed for an online conferencing service. The company's software offers conference hosting, conference creation, attendee networking, discussion tables, polls, virtual event lobby, attendee engagement, customer sponsored tables, switches tables, and event management, enabling large organizations to create conferences online that can go live in minutes.
Zuddl was funded $13.35 million, led by Alpha Wave and Qualcomm Ventures, and backed by GrowX Ventures, Waveform Ventures, and a few angel investors. The new investment will accelerate product development, scale globally, focus on the US market, and deepen its tech team.
Bharath Varma and Vedha Sayyaparaju founded Zuddl in May 2020. Zuddl has increased by over 30x since its inception. Today, it has a desirable list of clients, including Fortune 100 and other fast-growing companies such as Kellogg's, Microsoft, Dicks Sporting Goods, Grant Thornton, and NASSCOM.
This allows companies to create the virtual venue as they see fit, with customizable backgrounds/clickable hot zones to give the interface some show of a physical place. They provide many templates, but companies are free to make it look like a conference center, concert hall, or their actual office upload your images accordingly.
Behind the scenes, they're also doing quite a lot to simplify the complexities of hosting live locations. Each location's host invites their guests to go backstage where they're able to chat privately, do A/V tests, etc., all right through the browser. They can quickly turn guests to the audience-facing stage or pull them back off stage if their internet tanks or their mic begins cutting out. There's a dedicated chat room just for backstage hosts to communicate with onstage speakers, so you don't have to try to pack a Slack window onto your screen between everything else. Zuddl can also handle recording sessions, stage timers, and ticketing system integration.
Manu Rikhye, the Partner in GrowX Venture, said they are excited about the strong vision, expertise, and speed of execution of Zuddl's team. Their in-depth understanding of the needs of event organizers, speakers, sponsors, and attendees, coupled with their product first thinking, has made Zuddl's offering stand out in a highly crowded space.
As simple as virtual events might look, there's often a lot of complex machinery behind the curtain. It all works. It has been to a lot of these things. Zuddl seems to do an excellent job of boiling many of the pain points away at a cursory glance.
By: K. Tagura
Author statement:
Funded.com is the leading platform for accredited investors network worldwide. We monitor and provide updates on important funding events. Angel Investors and Venture Funding can be a key growth for a startup or existing business. Whether it is a first, second or third round financing having a strategic alliance with an Angel Investor or Venture Capital financing can propel a business to the next level and give the competitive edge.