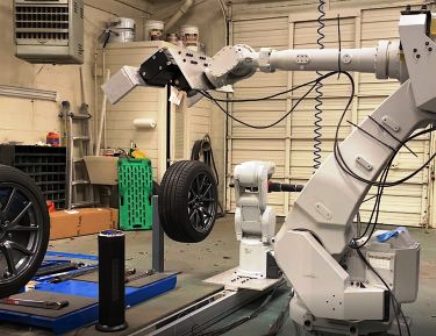 RoboTire is a startup, and Developer of automated vehicle maintenance machines design to facilitate the speedy replacement of automotive tires.
RoboTire was funded a $7.5 million financing round, begun by The Reinalt-Thomas Corporation, which gives business as Discount Tire and America's Tire. In joining, automotive Ventures, Detroit Venture Partners, 640 Oxford Ventures, and several angel investors participated in the round.
RoboTire CEO and Founder Victor Darolfi said their focus is to revolutionize the way tires are change. Cooperating with Discount Tire an iconic automotive and tire industry leader will make their innovative technology more broadly available to consumers who need both agility and service as part of their daily lives. They are immensely please to receive this support from their investors and understand this is just the first round down a long road to success for their partnership.
This company trademarked system uses robots to replace tires part of the time human operators can—reducing multiple-hour activities to under 15 minutes. This invention of manufacturing-level automation to traditional automotive repair shops transforms the conventional business and operational factors used by fleet operators and automotive service providers for tire and the wheel services.
Tom Williams, CEO at Discount Tire, said they are excited to support RoboTire in developing the latest and innovative technologies that drive a more satisfying customer experience. As customer expectations about the 'buy and book online' expertise and their ability to deliver reduced wait times continue to grow, they will continue to pursue automation and enhancements that ensure an inviting, easy, and safe experience for all their customers.
RoboTire is transformative for the tire industry and for developing more innovative automotive technologies and future-proofing the workforce of skilled technicians. RoboTire is excited to build out and scale their operations and team in Detroit and Michigan, the heart of American automotive engineering, with the support of their new partners.
By: K. Tagura
Author statement:
Funded.com is the leading platform for accredited investors network worldwide. We monitor and provide updates on important funding events. Angel Investors and Venture Funding can be a key growth for a startup or existing business. Whether it is a first, second or third round financing having a strategic alliance with an Angel Investor or Venture Capital financing can propel a business to the next level and give the competitive edge.