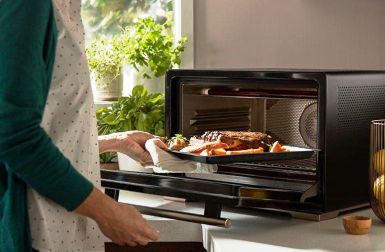 Because of the pandemic, most of us spend necessary amounts of time at home, and our concern has changed increasingly to how and what food we eat. Alike for those who love to cook, but especially for those who might not have the time, it's challenging to come up with tasty, nutritious, and new things to eat all the time.
Tovala the meal service paired with a smart countertop oven that scans, steams, bakes, and broils its chef-crafted meals, based in Chicago, IL.
Tovala was funded $30 million for Series C funding. The investment led by Left Lane Capital, an investment group focused on high-growth internet and consumer companies, with participation in existing investors Finistere Ventures, Comcast Ventures, OurCrowd, Origin Ventures, Pritzker Group Venture Capital, and angel investor Joe Mansueto.
The investment intends to open a new production facility, increase the team, enhance the customer experience, and continue building its food and consumer technology brand.
This company started in 2017. Tovala's up trajectory reached additional levels in 2020 as consumers invested in at-home meal solutions that met their twofold needs of satisfaction and quality. Unlike competitors that rely on time-intensive cooking or microwaved solutions, Tovala gives the coveted experience of an excellent home-cooked meal without the work usually required.
Customers also can tap into the scan-to-cook technology when they are not eating a Tovala meal. The smart oven comes with an additional specification that scans barcodes on brand-name grocery items and cooks them in a pre-programmed setting.
David Rabie, CEO of Tovala, said during when everyday life was impossible and collectively faced unexpected hardships, the Tovala team rallied to provide their customers with a source of comfort meals they could rely upon it. Regardless of the pandemic, weather disasters, and a range of external challenges, they focused on addressing 10,000 meals each week to houses dependent on their services. They are grateful to be a growing company during a difficult economic moment. They appreciate Left Lane Capital's partnership to help their business reach more people in the months and years to come.
Tovala has a deal with LG to install its Scan-to-Cook technology in select LG smart ovens so that when a consumer scans a Tovala Meal's barcode scanning system. LG's smart oven immediately sets the optimal temperature and cooking time. Beginning in 2021, select Tovala Meals will be available for purchase on the LG ThinQ app.
That partnership results from how the hardware companies that are setting up connected appliances, and services around them, are connecting more closely with incumbents to take their next scaling steps.
The co-founder and managing partner at Left Lane Capital, Jason Fiedler, said their team brings a proven investment experience in category-defining consumer subscription businesses. We are passionate about Tovala's potential to be the next major food tech company.
By: K. Tagura
Author statement:
Funded.com is the leading platform for accredited investors network worldwide. We monitor and provide updates on important funding events. Angel Investors and Venture Funding can be a key growth for a startup or existing business. Whether it is a first, second or third round financing having a strategic alliance with an Angel Investor or Venture Capital financing can propel a business to the next level and give the competitive edge.