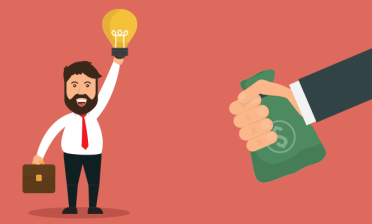 You have a business enterprise, but it's just not taking off the way that you planned, or business has slowed down significantly after a stellar few years. Along the way though, you have been able to learn much more about what the market demands and can amend your approach with great success with the right funding. Sometimes it's necessary to reinvent your business to fit the marketplace and take advantage of what you have learned to date through missteps or experience. It's a sharp turn to the right that can help a business take off again and angel investors can help you turn the wheel with angel funding.
Sometimes entrepreneurs have a good idea that needs tweaking, but they don't know it needs adjusting until they enter the marketplace. In the age of technology, customer needs can change rapidly, and you must be able to accommodate those needs through innovation. Business based on excellent ideas aren't always successful after a period of time simply because they need a new look, a new approach, a refined marketing plan or an adaptation.
All too often businesses are driven into the ground because owners refuse to acknowledge that the economy has shifted or that their market niche has changed expectations. It's a case of stubbornness in many circumstances because it's tough to consider changing a brand that has time, money and effort behind it. However, your brand won't do you much good if your company dies a slow death because you failed to listen to what the market is telling you.
Turning Towards Success
Reinventing your business with the help of angel investors can change a struggling business into an adaptable one that is always one step ahead of customers. Angel investors don't just fund brand new businesses. They also fund existing businesses ready to change course to take advantage of a changing economy or a changing marketplace. Companies reinvent themselves every day with enormous success and many are companies well recognized – Apple computers, HP, GE and others. However, you don't have to be a major corporation to understand that market adaptability is one of the most important keys to success.
Unfortunately, there are thousands of entrepreneurs who refuse to admit they need to pivot in place and head in a new direction. The advantages of adapting is overshadowed by the fear of failing, so the business is allowed to die a slow death while reinvention ideas are left languishing in the dark. It's not for lack of funding either. Angel investors are investors willing to accept risk for financial gain and are looking for companies that have a new idea and a new way to penetrate a changing economy. Angel investors, like venture capitalists and equity partners, embrace innovation, new approaches and new ideas.
Reinvention can take many forms.
Technological changes in products or processes
Response to competition in the form of new products or services
Upscale reinvention of brand
Change or expansion in products or services in response to changing customer base
Expansion in the definition of the niche market
Angel investors are more than willing to invest in companies that are ready to take a new path. In fact, you have a lot to offer angel investors right from the start because you have a business track record. The fact you are currently in business is a major benefit and selling point and often enough to get an investor's attention sooner rather than later.
Pivoting on Core Competences
If you have a desire and need to take a sharp turn to the right in your business, the first step is developing a business plan around your core competencies. Those core competencies are the strengths of your business around which you will pivot your plans for new products or services, increased market penetration or business expansion based on a reinvention platform.  Clearly explain your new idea, track record, the problem you will solve or the market you will serve, the benefits offered to the marketplace, the revenue opportunities and how reinvention strengthens and rather than weakens your enterprise, and angel investors will have plenty of good reasons to join your efforts.
Who we are: Funded.com is a platform that is A+ BBB rated over 10+ years. Access our network of Investors, get instantly matched with a Lender, or get a business plan by visiting us Funded.com
You can review our featured partners to help your success with your business or project.