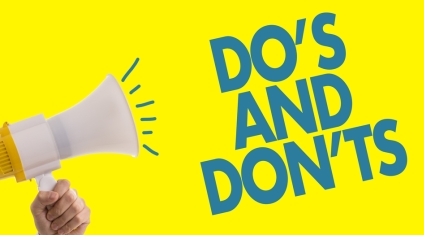 Crowdfunding is an opportunity to gain traction among a wider audience while raising money so you can take your idea and turn it into a reality. The immense popularity of crowdfunding platforms is what encourages startups in the first place.
Everywhere you look, you'll see success-story companies that came to be because of forums like Kickstarter and GoFundMe. However, that's exactly what you'll see- the success stories because no one talks about campaigns that go wrong and ideas that you should flush down the drain. If you want your startup to kick off and skyrocket like the ones you've seen, it's essential that you take crowdfunding seriously by knowing what to and not to do. Here are crucial Dos and Don'ts to remember.
Do Explain Your Plan
People that fund your idea will only do so if they understand it and think that it can be of use in the near future. Even if your idea is brilliant and will help many people, it won't get far until you get into the practical details of it. However, that's not all; being brilliant won't do much if you're not responsible. That's why it's necessary that you be transparent with your audience and go into detail as to how you will spend their money.
Don't Expect Your Funding From a Single Campaign
Being over-optimistic about your crowdfunding campaign can be detrimental because you're not prepared to be disappointed when the inevitable happens; not generating all the required funds with a single campaign. Actually, the essence of a campaign is to simply bring your development team to the next stage of your idea. Once you reach the next stage and prove to your audience how you're progressing, they'll be willing to fund again and even get their friends in on it.
Do Involve Your Supporters
A crowdfunding campaign shouldn't be all about securing capital but engaging with your supporters. One good way to do this is by involving them in the process. By giving special updates on how far your product has come, you ensure building a supportive base of backers. Meeting your product release deadline will be beneficial since it gives you an opportunity to pre-sell it to your backers. This allows them a firsthand experience of your product before it hits the shelves.
Don't be Unrealistic
While there may be pressure to gather enough funds and meet deadlines, nothing should compel you to make unrealistic promises. Donors and supporters will have higher expectations, which can lead them to withdraw support at any time during the campaign if they discover that you weren't being completely honest as to what your company would deliver. This tends to create a domino effect and you'll end up with a bad reputation, which will hinder any plans of a crowdfunding campaign.
Do Get Creative with Your Campaign
A campaign isn't just about setting up accounts and waiting for the cash to flow in. You'll have to make an effort to convince potential donors and backers to support your idea. Let's face it: there are thousands of startups looking to take off and you'll need a pivotal aspect that makes the audience choose you. One way to do this is to be creative with your startup website.
Add plenty of pictures with larger and lesser text to get their attention towards your product. Share pictures of prints and drafts, a timeline of how the design has evolved. This is paramount to not just help backers understand your idea, but make them feel like part of a family that has been there since the beginning.
Don't Ask For Too Much
Yes, there's such a thing as asking for too much money and getting too much of it can be ineffective to your cause. On Kickstarter, campaigns considered successful haven't even raised over 10 thousand dollars. Hence, the chance of becoming a multi-millionaire before your product is released is fairly low. Even if you somehow did have donors willing to give this much, there are laws in place that prevent you from raising over 1 million dollars in a year. I'll explain in the next point why this is beneficial.
Do Consider Them as Investors
By having effective rules in place that prevent a campaign from raising over a million dollars in a year, platforms can prevent backers from giving too much. This is because supporters and backers are basically investors who expect something in return for their investment. In the case that a certain supporter funded you with a large amount of money, your campaign can get in trouble if you're unable to provide them a reward for supporting you.
Don't Forget To Ask For Opinion
Engaging with supporters and backers is a great way to gather support and generate ideas to further proceed with your idea. They're your audience and they love being asked about their opinions, which is why it helps to take them into consideration while developing your product. Moreover, it helps to get market insight into the kind of people who will be coming in contact with your products and inventions.
Do Make an Interesting Video
A good video can do wonders for developing an engaged supporter base. Since there are multiple startups that people consider investing in, not everyone has time to read your agenda and what your product is about. A video can give them a quick summary about what you're doing, who you are and how you intend to impact a certain target population with your invention.
Don't Be Mysterious
While Satoshi Nakamoto might have made it far by hiding his/her/their identity from the public, the stakes are different at this point in time; people want to fund people and not just ideas. It'll pay off to introduce yourself and members of the team. At times, your idea may not be as unique as you think but it's still possible to drive a successful campaign if people believe in you and your ability.
These are some of the basic factors to keep in mind while organizing a crowdfunding campaign. It's true that there is no objective recipe for success but hard work is undoubtedly an ingredient so as long as that's there, and you follow some guidelines, you can make it.
Access our network of Angel Investors, Venture Capital or get instantly matched with a Lender. Create a crowd funding campaign or get a business plan by visiting us Funded.com