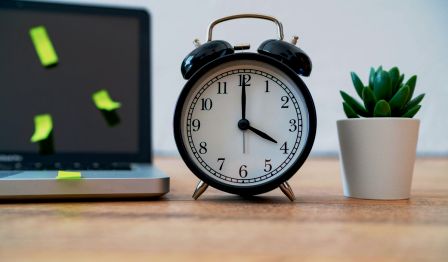 Have you been complaining about how your day seems spiral out of control? You start your workday feeling a 100 with a goal, plan, and list, but at the end of the day, you are unable to accomplish most of the items on your list. There are days when completing our To-Do list seems beyond reach, and you keep scrambling to achieve deadlines.
Being productive at work can be a difficult task, and the temptation of mobile games, social media, the Internet and the bustle of co-workers doesn't make things easier.
So, how do we go about becoming more productive at work?
With only so many hours in a day, maximizing this time is critical to productivity. There are two ways you can increase your success output in a day – you either increase the number of hours you work for or you work smart. The second one is the better option.
Being more productive at work shouldn't be confused with busyness. Productivity means getting effective results in a short amount of time as possible, leaving you with more free time.
Imagine ending your workday with a contented sigh, knowing that you productively achieved everything on your list. In this post, we will walk you through practical and easily applicable strategies for increasing your work productivity.
Stop Multitasking
Taking on a few tasks at once can be quite tempting, especially if some seem easy or small. But it doesn't work. According to Earl K. Miller, a neuroscience professor, "multitasking is not humanly possible."
Research also shows that trying to do several things at the same time reduces productivity, and shuffling tasks can cost up to 40% of one's time. When you have to switch between tasks, your concentration and focus are continuously affected.
Need for reasons to stop multitasking? A study conducted in the University of Sussex in the UK reports that multitasking may be harming your brain physically.
So, stop trying to juggle eating lunch, presentation, and making phone calls. If you focus on completing one task, you will end it faster, giving you more to move on to the next. So, dramatically increase your productivity by prioritizing the tasks you have on your plate and allocating time for each.
Take Regular Breaks
This might sound counter-intuitive. However, taking scheduled breaks will help improve your concentration.
Some research also shows that taking short breaks in between long tasks will ensure that you maintain a constant level of performance. You might have noticed that when you are burned out, you never work as well.
Learn to spend that 15 minutes grabbing coffee mid-afternoon or taking a 5-minute walk around the office. Besides improving your concentration, this will also boost your mood.
Set Small Goals
Have you ever experienced an overwhelming feeling while looking at the big projects you have on your calendar? This happens to even the best of us and isn't a cause for alarm. If the goals you set for a day are looking complex, you can break them down into smaller tasks.
This will make you feel more in control, keep you on track with your day-to-day activities, and increase your productivity. So, rather than write a project on your to-do list and allocate a deadline, you can try breaking down the project into all the tasks that will go into completing it.
Do the Biggest Tasks When You're at Your Best
Several people do mental sludge tasks such as reading emails and other routine chores in the morning. Sometimes, we unconsciously push our big goals to the end of the day because we are not confident in our ability to accomplish them.
And by the time we finally get to them, we are too burned out from the day to give them the attention they deserve.
This is wrong; several work productivity experts recommend that you start your day with tasks that are the most creatively demanding, especially if you are a morning person.
However, if you work better at night, this doesn't apply to you. Tony Wong, a productivity expert, advises that we do our most demanding tasks at times when we feel most productive.
Understand that there is no perfect schedule that is ideal for everyone. Understand how and when you work best to get your big projects done in no time.
Prepare a To-Do List
Each night, create a to-do list for the next day. To-do lists are invaluable aids for productivity. They help you get organized, provide you with pivotal focus, and reward you with feelings of satisfaction when you check things off your list.
What's more, making a to-do list and updating it each night before going to bed means that you won't waste time looking for your next tasks at the start of the workday. You can also try to talk through your list with someone else.
The co-founder of Buffer, Leo Wildrich, talks about this technique in "What Multitasking Does to Our Brains," saying:
"The to-do list I jotted down didn't change, but it felt as if I had done half the work of it all in my head already. The next day, all I had to do is look at the task and get it done."
The next question is: how many items are on your ideal to-do list? To become a productivity superstar, you have to stay focused.
And getting that focus involves narrowing down your options (the items on your to-do list). So, as you review your to-do list each night, you have to ask yourself some critical questions:
What are the crucial tasks on this list?
How many of these highlighted (important) tasks can I achieve realistically or make significant progress on tomorrow?
Be Proactive
You need to put yourself on a realistic deadline for your tasks and work towards achieving them. This will help you eliminate distractions.
However, it is also essential that we take note of certain unavoidable disruptions such as a colleague asking for quick assistance or your manager requesting a quick meet. To handle these, you have to know how to deal with interruptions.
Inform your colleagues of your need to focus. On your work chat app, turn your status on as "unavailable/busy." Let them know of your deadline and need to concentrate. This will significantly minimize your chances of being interrupted.
Bottomline
These strategies discussed above should serve as a solid foundation for you to most out of your time in a short time.
But you should also keep in mind that change does not happen overnight. Start with small steps and be consistent. Consistency is the key. Even if you slip up on any, dust yourself up and try it again.
Cheers to more productive days!
Who we are: Funded.com is a platform that is A+ BBB rated over 10+ years. Access our network of Investors, get instantly matched with a Lender, or get a business plan by visiting us Funded.com
You can review our featured partners to help your success with your business or project.