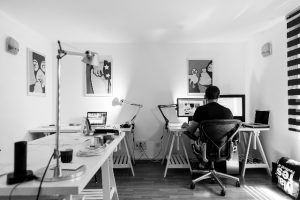 Continuous innovation in technology is changing the paradigms of starting and running a business for all entrepreneurs out there. Technology is disrupting the conventional mindset of requiring a significant amount of capital and doing extensive research for months before taking the first step toward building your own venture.
Almost everything from schools to businesses even medical assistance has an online presence nowadays. The days of running a conventional brick-and-mortar are gradually fading away, and businesses are more focused on being ubiquitous rather than confined to one locality. Hence, there is a continuous boom in online businesses.
It doesn't matter what type of business you want to enter in order to run your own business – be it a superstore, restaurant, boutique, consultancy, or any other business for that matter – if you are stopping yourself just because you see your idea as a nightmare of overhead expenditures, and low profits margins, then stop right there and learn something from the gurus of e-commerce businesses, 'Jeff Bezos' and 'Jack Ma'.
If they, or any other successful online entrepreneur, would have backed out from availing an opportunity to start their dream venture online, they wouldn't be where they are today. Surely, they faced their unique set of challenges, but they found a way out and set an exemplary venture for all entrepreneurs to follow.
Starting an online business nowadays is much easier compared to starting one, say, 10 years ago. Rapidly changing social platforms, mobile phone, and consumer lifestyles are encouraging already existing ventures to have an online presence and new people to start an online business. Here are some essentials when starting an online business.
An Ideads
What do all successful businessmen have in common? It was the 'idea' that they were so passionate about that they just had to share it with the world. Whether it was Steve Jobs working on the first touch phone, or Jack Ma starting the online business trend in China, it was their idea that changed their and the people's lives around them forever.
Online businesses can run on numerous business models, such as web-based clothing line like Zalora, subscription boxes like Netflix, and Blue Apron, e-commerce platforms such as Amazon and eBay, and so on. All it takes is an idea to fit the right business model and you're good to go.
Skills
Every business requires a certain combination of skills to operate. Even though the number of people possessing these skills may vary from one business to another, yet here is a list of some crucial skills that are needed in every online business venture:
Sales and Marketing: People possessing these skills are a gateway between your business and the end consumer, be it a B2B or B2C business, marketers, and salespeople are responsible for making strategies and plans in such a way that not only increases your business visibility, but attract people to your brand.
Technical Expertise: This is particularly important for businesses who are running their own websites and applications. Even though certain people prefer outsourcing web application or using third-party platforms, but ones who set up their own domain require technical expertise with backing up their data and ensuring it is free from cyber threats.
Analytics: Regardless of driving organic traffic to your webpage or running a paid campaign, people with analytical expertise are highly useful in online businesses. They ensure the right mix of strategies that will boost your business' online visibility while making viable predictions for future trends from data that is generated in the processes.
Comprehensive Plan
Diving deep into something that one hasn't fully analyzed will be the biggest mistake individuals tend to make. Therefore, it is highly recommended that you do a thorough study of the favorable and unfavorable circumstances that you might face when starting your online business.
For instance, conducting market research to thoroughly understand your target audience, and organizing a competitive analysis to know who/what your business will be up against; these basic preliminary steps can turn out to be quite beneficial in the long run.
Website
Setting up a website for online businesses is an ongoing process that goes through numerous steps, from registering a domain name, to updating it regularly. Domain names should be unique; the last thing that any business would want is to have the same name as anyone else.
For some businesses designing a website and making it mobile friendly makes a lot more sense as compared to other ventures that sell, let's say, FMCG products.
Moreover, paying attention to the quality of the content you upload on the website makes all the difference when it comes down to how much traffic your website generates. So quality pictures, recent blogs, and affiliations with other ventures will surely boost your website's credibility.
Approval
Like all other businesses, online businesses too have to go through a certain procedure to legalize themselves, so make sure that you read up all the regulations there are about running an online business.
There can be a number of regulations from shipping, to trademark to zoning for you to consider when setting up your business. By taking all the rules and regulations into consideration, make sure you get your business registered according to the legal structure of the country you're based in. Moreover, you'll need to consult with a business lawyer about the tax obligations of your business.
So Start Your Online Business
From being considerably inexpensive, providing more convenience to all stakeholders, to having an unlimited potential to generate income, there are numerous reasons why one would prefer starting a business online. Even though starting a business online doesn't involve any less work, people tend to underestimate how much effort you need to put in, in order to make a business successful.  Even if you decide to start an online business as a source of extra income, it should be updated and maintained regularly. Indeed, no business is successful without constant efforts of the people involved.